SKU: 4079
Description

This recipe is packed full of USA-Raised Free Range Elk, dried goats milk & organic minerals. Your dogs will absolutely LOVE the taste of this whether it's fed as a complete meal, topper or treat. Every time you add this to your dogs bowl, you're reducing the carbohydrate load on their digestive system.

How is it made?

We removed the moisture from this raw meaty goodness while the Freeze-Dryers were set to negative 60! Our goal is to pull out one thing, and one thing only…..WATER! The protein, fat & nutrients stay in, creating one very healthy and tasty food, full of bioavailable nutrients and vitamins that are derived from organ meats & organic amino acids. WIthout a doubt, the most gentle process frozen raw meat goes throught to become shelf-stable!
Nutritional Info

Guaranteed Analysis

| | |
| --- | --- |
| Crude Protein, Min. | 41.0% |
| Crude Fat, Min. | 25.5% |
| Crude Fiber, Max. | 2.0% |
| Moisture, Max. | 5.0% |

*Not recognized as an essential nutrient by the AAFCO Dog Food Nutrient Profiles

Ingredients

Caloric Content
Feeding Instructions

Cups by Weight

| Dog Weight, lbs | cups per day |
| --- | --- |
| up to 10 lbs | .25 – 1 cup |
| 10 – 20 lbs | 1 – 1.5 cups |
| 20 – 40 lbs | 1.5 – 2.25 cups |
| 40 – 60 lbs | 2.25 – 3 cups |
| 60 – 80 lbs | 3 – 3.75 cups |
| 80 – 100 lbs | 3.75 – 4.5 cups |
| over 100 lbs | 4.5 cups + .25 cups per additional 10 lbs |
View full details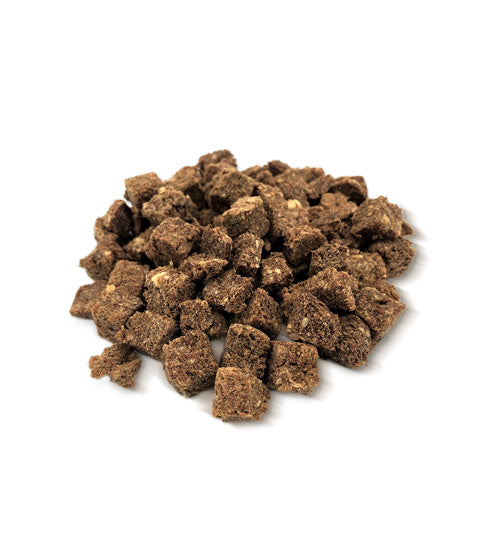 Why feed Muenster Freeze-Dried
We're removing water from raw meat at -60º F. This creates a minimally processed, shelf-stable, highly nutritious product that isfree of artificial preservatives, binders & fillers.
Introducing Freeze-dried as part of a dog's meal plan will reduce the amount of carbohydrates in the diet, which will effectively reduce inflammation. It may also prevent many of the common problems such as skin & joint issues or digestive issues in the animal. If you have a dog with digestive/skin issues, one of the best things you can do is put your dog on a freeze-dried diet for a month!
FAQs
How can I get in touch with the Muenster Milling Co. team to ask a question?
How do I know I can trust the quality of Muenster Milling Co?

We take the quality of our product personally. We have high standards for our product from the minute we receive raw ingredients until it leaves our warehouse. We use fixed formulas instead of least cost formulas so that we have the exact same recipe every time. We start off by testing our raw ingredients for foreign products before production. Next we put our team through intense training to make sure they know exactly what they're doing when helping cook Muenster products. After the product is cooked, we then test everything to assure that we meet our guarantee's and are free of any foreign products.
I notice when I'm shopping at Target, Walmart, Petco, Petsmart, and other large grocery chains that I don't see your food, why is that?

We are a small business to the core. We choose to support other independently owned and operated stores. For over 80 years, we have survived with the support of small business and independently owned companies. Our goal is to continue this for the next 80 years.
I want to feed Muenster, but I don't live near a location that retails your product, how do I find it?

You can ask your local pet store to carry our product or check out our online store.
Where do you source your ingredients?

We start with our county, and buy as much as we can within 20 miles of our facility. We then look to the great State of Texas for as many ingredients as possible. Beyond that, we look to our neighboring states. In fact, 80% of our ingredients come from within 200 miles of our facility. Our vitamins are sourced from the USA & bags are printed in America as well!
What breeds are they good for?

All of our recipes are developed with the ability to feed all breeds. There aren't different breeds of rabbits for different breeds of dogs in the wild.
What if my dog doesn't like it?

Get a new dog 😂😂. We guarantee every purchase, and we're happy to replace the product with a food they'll love. We can send you a label that you can use to ship the food back to us & provide you with a refund.
Locally Made - Family Owned Superior Nutrition

For four generations, our family has been driven by one goal: to provide a nutritious food for your animal, backed by science, that we make ourselves. The town of Muenster that we call home may not be the biggest place in Texas, but to the local farmers that supply us with ingredients used in our recipes, it's one of the best. We couldn't agree more.

Dr Verwers Functional Toppers

Our functional meal toppers are designed to provide nutrition and supplements your dog needs in a delivery mechanism that not only tastes good, but is easy to give your dog. Have a hip/joint issue, no problem! If your dog is suffering from anxiety, try a little added Hemp oil.

Freeze-Dried Raw

A Great Way to Introduce Raw Into a Pet's Diet

It is our belief that many of the common issues and diseases that animals face today are a result of chronic inflammation. This can be caused by an abundance of gluten & excess sugars consumed by the animal, resulting in leaky gut & skin/joint/cognitive issues. Introducing Freeze-dried as part of a dog's meal plan, will reduce the amount of carbohydrates in the diet, which will effectively reduce inflammation. It may also prevent many of the common problems such as skin & joint issues or digestive issues in the animal. Not to mention, the taste for dogs is out of this world!