19% savings with the 22 Pound option.
Customize for My Dog

Choose your recipe enhancements
SKU: 942
Description

Muenster Grain Free with Chicken & Turkey is designed for dogs that have allergies to grains. This high protein, high fat diet is full of high quality ingredients such as green lipped mussels and coconut meal. This food is safe for all life stages and all breeds.

Key Benefits

Chicken – Nutrient rich source of protein, minerals and amino acids
Grain Free
High Protein and Fat levels

 

– 34% protein and 20% fat
American Sweet Potatoes

 

– Sweet potato helps increase your dog's digestion, aiding in the absorption of nutrients.
Prebiotics and Diamond V Yeast

 

to improve digestion
GMO-FREE
Nutritional Info

Guaranteed Analysis

| | |
| --- | --- |
| Crude Protein, Min. | 34.0% |
| Crude Fat, Min. | 20.0% |
| Crude Fiber, Max. | 6.0% |
| Moisture, Max. | 10.0% |
| Calcium, Min | 1.2% |
| Phosphorous, Min | 1.0% |
| Omega 3* Fatty Acids, Min. | 1.3% |
| Omega 6* Fatty Acids, Min. | 3.5% |

*Not recognized as an essential nutrient by the AAFCO Dog Food Nutrient Profiles

Ingredients

Caloric Content
Feeding Instructions

Cups by Weight

| Dog Weight, lbs | cups per day |
| --- | --- |
| up to 10 lbs | .25 – 1 cup |
| 10 – 20 lbs | 1 – 1.5 cups |
| 20 – 40 lbs | 1.5 – 2.25 cups |
| 40 – 60 lbs | 2.25 – 3 cups |
| 60 – 80 lbs | 3 – 3.75 cups |
| 80 – 100 lbs | 3.75 – 4.5 cups |
| over 100 lbs | 4.5 cups + .25 cups per additional 10 lbs |
View full details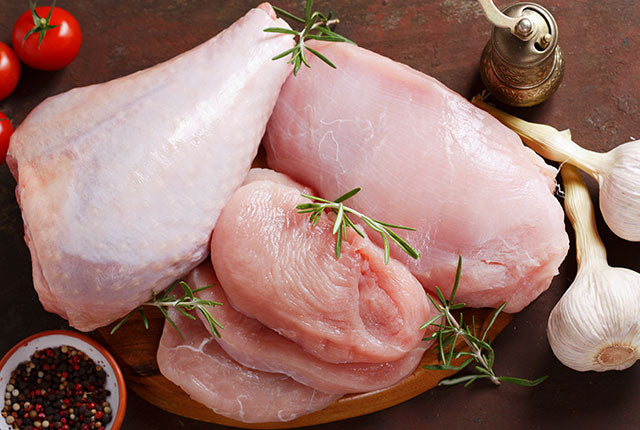 Muenster Grain Free Chicken & Turkey
My Custom Dog Food Enhancements

FAQs
How can I get in touch with the Muenster Milling Co. team to ask a question?
How do I know I can trust the quality of Muenster Milling Co?

We take the quality of our product personally. We have high standards for our product from the minute we receive raw ingredients until it leaves our warehouse. We use fixed formulas instead of least cost formulas so that we have the exact same recipe every time. We start off by testing our raw ingredients for foreign products before production. Next we put our team through intense training to make sure they know exactly what they're doing when helping cook Muenster products. After the product is cooked, we then test everything to assure that we meet our guarantee's and are free of any foreign products.
I notice when I'm shopping at Target, Walmart, Petco, Petsmart, and other large grocery chains that I don't see your food, why is that?

We are a small business to the core. We choose to support other independently owned and operated stores. For over 80 years, we have survived with the support of small business and independently owned companies. Our goal is to continue this for the next 80 years.
I want to feed Muenster, but I don't live near a location that retails your product, how do I find it?

You can ask your local pet store to carry our product or check out our online store.
Where do you source your ingredients?

We start with our county, and buy as much as we can within 20 miles of our facility. We then look to the great State of Texas for as many ingredients as possible. Beyond that, we look to our neighboring states. In fact, 80% of our ingredients come from within 200 miles of our facility. Our vitamins are sourced from the USA & bags are printed in America as well!
What is an ancient grain?

A grain that hasn't changed in thousands of years. They are gluten free, gmo free & typically a lower starch/sugar content than the cereal grains that are most common
What does grain free mean?

It means we use ingredients that aren't sourced from a grain. With many dogs having allergies to grain, this is an important option to have for our dogs!
What breeds are they good for?

All of our recipes are developed with the ability to feed all breeds. There aren't different breeds of rabbits for different breeds of dogs in the wild.
Who formulates your diets?

We use PhD nutritionists to design our diets. We use several that have a combined 70 years of experience. We begin with the dog in mind and build a diet using the best and most local ingredients we can to accomplish this. We partner with local rescues and kennels to test the food and work closely with our veterinarians & PhD's to determine the best possible recipe we can manufacture and then proceed to utilize our local sources and almost 9 decades of experience to produce the highest quality food we can!
Why does your food have so many more calories per cup than other diets?

We have a more gentle cooking process than most companies where we utilize lower cooking temperatures and use less starch. The more starch you have in a food, the more it will expand. The more meat you use, the more condensed the kibble is. The more you heat it, the more it expands. The more you heat it, the more vitamins/minerals & proteins are destroyed.
What if my dog doesn't like it?

Get a new dog 😂😂. We guarantee every purchase, and we're happy to replace the product with a food they'll love. We can send you a label that you can use to ship the food back to us & provide you with a refund.
Locally Made - Family Owned Superior Nutrition

For four generations, our family has been driven by one goal: to provide a nutritious food for your animal, backed by science, that we make ourselves. The town of Muenster that we call home may not be the biggest place in Texas, but to the local farmers that supply us with ingredients used in our recipes, it's one of the best. We couldn't agree more.

Dr Verwers - Calming, Hip & Joint, Heart Strong and Digestive Aid

As a veterinarian with over 30 years of experience, Craig Verwers, D.V.M., has heard countless stories from pet owners struggling to find supplements that would not only provide results, but also be free of artificial preservatives, colors and produced without high heat & pressure. Introducing Dr Verwers Freeze-Dried Supplements, relief for pet owners.

Freeze-Dried Raw - A Great Way to Introduce Raw into Your Pet's Diet

Introducing Freeze-dried as part of a dog's meal plan, can reduce the amount of carbohydrates in the diet, which may effectively reduce inflammation. It may also prevent many of the common problems such as skin & joint issues or digestive issues in the animal and the taste for dogs is out of this world!